Posts for tag: porcelain veneers
By Washington Street Family Dentistry
June 15, 2019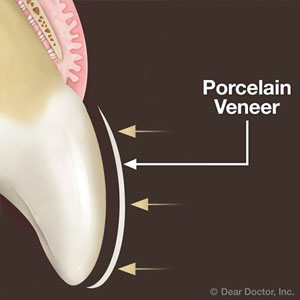 Your teeth are sound and healthy—but appearance-wise, they're nothing to write home about. It's nothing major: a chip, some heavy staining or perhaps a slight gap between the front teeth. But whatever the blemish, it bothers you every time you look in the mirror.
There's an affordable way to improve your smile without a lot of extensive treatment: porcelain veneers. These thin layers of dental porcelain are bonded to the teeth's exterior to mask the blemishes beneath. All you and others can see, though, are beautiful teeth blending seamlessly with the rest of your natural teeth.
Changing your smile with veneers begins with a consultation with your cosmetic dentist. During your visit you'll discuss what you would like to improve and how you would like your smile to appear afterward. It's helpful to take along magazine photos or other images of how you'd like your teeth to look.
After making impressions and getting other necessary measurements, your dentist may then be able to show you what your new veneers will look like. One way is through computer software that superimposes your proposed new look onto a photograph of your face. Your dentist may also be able to create test veneers with acrylic or other dental materials and apply them to your teeth. These aren't your permanent veneers, but they can still give you a realistic view of your future smile.
Once your measurements are on the way to the dental lab to custom create your veneers, your dentist must prepare your teeth for bonding. Although veneers are quite thin, they may still appear bulky when bonded to the teeth. To create a more natural look, you'll probably need some of the enamel layer of your teeth removed to accommodate the extra width. Even though this is a small amount, it will permanently alter your teeth and require some form of restoration from then on.
After your veneers arrive, the dentist will attach them with a translucent cement that will bond them seamlessly to the natural teeth. You and others won't be able to see where the veneer ends and the natural tooth begins. What you will see, though, is a new look for your teeth and a more attractive smile.
If you would like more information on porcelain veneers, please contact us or schedule an appointment for a consultation. You can also learn more about this topic by reading the Dear Doctor magazine article "Porcelain Veneers: Strength & Beauty as Never Before."
By Washington Street Family Dentistry
February 05, 2019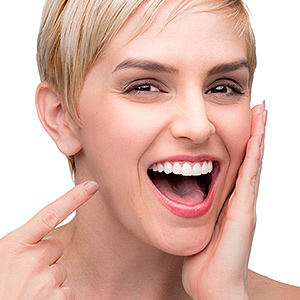 Those unattractive teeth you see in the mirror are what are standing between you and a truly beautiful smile. If only you could make them go away.
In a way, you can do just that—with dental veneers. For the past three decades dentists have been covering the imperfections of problem teeth with these thin layers of porcelain. What's more, they're usually less involved and expensive than other restorations.
Veneers work best on teeth with moderate flaws like chipping, heavy staining or wearing, or slight misalignments like crookedness or gaps. The dental porcelain used is a ceramic material that so closely mimics the color and translucence of natural teeth it often takes a trained eye to notice any difference.
The first step to getting veneers is to plan your new look with a full examination and a diagnostic mock-up, a temporary application of tooth-colored filling materials applied directly to the teeth. This gives you and your dentist a better visual idea of how veneers will look on your teeth, and to make any adjustments ahead of time. A dental lab will use these findings to create your custom veneers.
In the meantime we'll prepare your teeth to accommodate your veneers. Although they're usually only 0.3 to 0.7 millimeters thick, veneers can still appear bulky when placed straight on the teeth. To adjust for their width we usually must remove some of the teeth's surface enamel so the veneers look more natural. Because enamel can't be replaced, the removal permanently alters the teeth and will require some form of restoration from then on.
When the veneers are ready we'll attach them with special cement so they'll form an almost seamless bond with the teeth. You'll then be able to use them just as before—but with a little caution. Although quite durable, veneers can break under too much force, so avoid biting on hard objects like ice, hard candy or nuts. And be sure you practice good dental care on your veneered teeth with daily brushing and regular dental cleanings and checkups.
The end result, though, is well worth the upkeep. Porcelain veneers can rejuvenate your smile and provide you a new level of confidence for years to come.
If you would like more information on porcelain veneers, please contact us or schedule an appointment for a consultation. You can also learn more about this topic by reading the Dear Doctor magazine article "Porcelain Veneers: Your Smile—Better than Ever."
By Washington Street Family Dentistry
March 27, 2018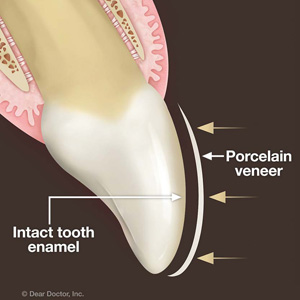 Porcelain veneers are one of the best ways to transform your teeth's appearance with only a small amount of tooth preparation. But even that small amount could leave a veneered tooth permanently altered.
As the name implies, veneers are thin layers of custom-designed porcelain bonded to the outside of a tooth to cover defects. They're usually ideal for minor chipping, staining or even slight tooth misalignments. But although they're thin—often just a millimeter or so in thickness—they can still make a tooth appear or feel bulky.
To reduce this extra width, we usually need to remove some of the tooth's surface enamel. Since enamel doesn't replenish itself, this alteration could mean the tooth will require a restoration from then on.
But now, you may be able to take advantage of new advances in this popular restoration: No-Prep or Minimal Prep veneers that involve little to no tooth alteration. In most cases they're simply bonded to the teeth with only slight enamel reshaping.
Because of their ultra-thinness, No-Prep veneers (usually between 0.3 to 0.5 mm, as thin as a contact lens) are bonded directly to teeth that are practically untouched beforehand. A Minimal Prep veneer usually requires only enamel reshaping with an abrasive tool before it's placed. And unlike traditional veneers, they can often be removed if needed to return the teeth to their original form without another restoration.
These new veneers are best for people with small teeth, often from wear due to teeth grinding, narrow smiles (the side teeth aren't visible while smiling), or slightly misshapen teeth like underdeveloped teeth that can appear peg-shaped. But people with oversized teeth, some malocclusions (bad bites) or similar dental situations may still require enamel removal to avoid bulkiness even with ultra-thin veneers.
If you don't have those kinds of issues and your teeth are reasonably healthy, we can apply No-Prep or Minimal Prep veneers in as few as two appointments. The result could be life-changing as you gain a new smile you're more than happy to share.
If you would like more information on no-prep veneers, please contact us or schedule an appointment for a consultation. You can also learn more about this topic by reading the Dear Doctor article "No-Prep Porcelain Veneers."