Posts for tag: dental implant
By Washington Street Family Dentistry
June 29, 2020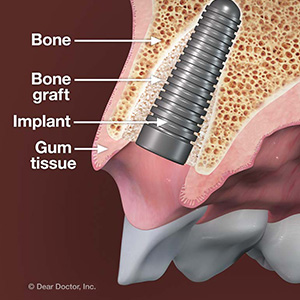 If you've been dealing with a tooth that needs to be removed—or it's already missing—you may be looking to replace it with a dental implant. And it's a great choice: No other restoration can provide the appearance and function of a real tooth like an implant.
You and your smile are ready for it. The question is, though, are your gums and underlying bone ready? These dental structures play a critical role in an implant's stability and eventual appearance. A problem with them may make placing an implant difficult if not impossible.
An implant requires around 2.0 millimeters of bone thickness surrounding the implant surface for adequate support and to minimize the chances of gum recession. But tooth loss often leads to bone loss that can drop its thickness below this threshold. This can make placing an implant problematic.
Fortunately, though, we may be able to address the lack of sufficient bone through bone grafting. By placing grafting material within the empty socket, we create a scaffold for new bone cells to grow upon. Over time this subsequent growth may be enough to maintain an adequate thickness of bone for an implant to be placed.
The gums may also pose a problem if they've shrunk back or receded from their normal positions, as often happens because of gum disease (which may also have precipitated the tooth loss). Again, grafting procedures can help ensure there's adequate gum coverage for the implant. And healthier gums may also help protect the underlying bone from loss.
There are several techniques for placing gum tissue grafts, depending on how much recession has taken place. One procedure in particular is often used in conjunction with implant placement. A small layer of synthetic collagen material or gum tissue referred to as pa dermal apron is included with the implant when its placed. Settling into the bone socket, this apron helps thicken the gum tissues, as well as preserve the underlying bone.
During your preliminary exams, we'll assess your bone and gum health to determine if we should take any steps like these to improve them. It may add some time to the implant process, but the end result will be well worth it.
If you would like more information on dental implants, please contact us or schedule an appointment for a consultation. You can also learn more about this topic by reading the Dear Doctor magazine article "Immediate Dental Implants."
By Washington Street Family Dentistry
June 19, 2020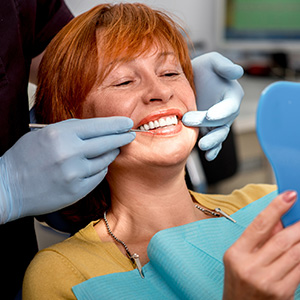 Dental implants aren't simply prosthetic teeth, but rather an innovative system that restores both smile appearance and dental function. And while an implant can indeed replace a single tooth, they can do so much more. Integrated with removable dentures or a fixed bridge, they provide a secure solution to multiple missing teeth.
Implants essentially replace a missing tooth's root, the basis for their lifelikeness and functionality. As such, they're also the most sophisticated restoration used today, requiring a high degree of technical and aesthetic skill to place them properly. In reality, implantation is more a process than a procedure.
If you're considering implants, that process begins with a comprehensive dental exam. During the exam, we'll assess the exact condition of your oral and facial structures like the length of remaining teeth, your bite and jaw dimensions. We'll use this information to plan the type and placement of your implants. The exam may also reveal problems like bone loss that might postpone your implants or suggest another form of restoration.
Using digital technology, we then locate the exact positions for your implants on the jaw to ensure the best outcome. This often results in the creation of a surgical guide, a plastic template placed over the jaw that accurately pinpoints the locations for the drilling sequence during implant surgery.
In most cases once the implants are surgically installed, gum tissue may be sutured over the implant to protect it while it integrates with the bone. In some cases, though, a visible crown may be placed immediately, so the patient can enjoy a tooth-filled smile the same day. This immediate crown, though, is temporary and will be replaced with a more durable, permanent one in a few months.
During this interim, the titanium in the implant post will attract bone cell growth, which will build up on the implant surface. This increased bone contact will help secure the implant fully in the jaw, giving the implant its signature durability.
Once the integration is complete, the permanent crown is affixed to the implant (or implants in the case of a fixed or removable dental appliance). It may have been a long road, but you'll have the closest thing to real teeth.
If you would like more information on implant restorations, please contact us or schedule an appointment for a consultation. You can also learn more about this topic by reading the Dear Doctor magazine article "New Teeth in One Day."
By Washington Street Family Dentistry
October 23, 2019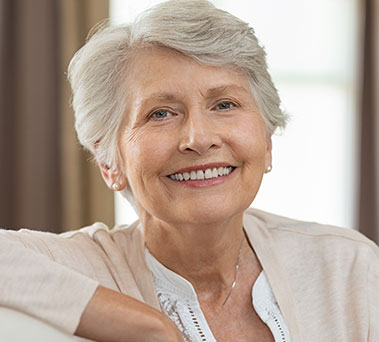 Dental implants are all the rage—and for good reason: They're incredibly "tooth-like," both in appearance and function. They also have a stunningly high success rate: More than 95% of implants still function after ten years. This means out of thousands of implants installed each year, only a handful fail.
But although that's an amazingly low number, they're still failures for real people who've suffered a loss. If you're considering dental implants the chances of that being your experience are quite low. But it could still happen.
Here's a few things you can do to make sure your implants don't fail.
Stop smoking. Of the small percentage of implant failures, an inordinate number are smokers. A smoker's chances of implant failure are roughly double those of non-smokers. Smoking, and to some degree any tobacco use, can make your mouth an unhealthier place: Not only can it increase your dental disease risk, but it can interfere with the healing process after implant placement and increase the chances of early failure.
Manage your health. Diabetes and similar systemic conditions can interfere with the healing process too, which could impact your implant attachment to bone. Diabetics thus run a slight risk of implant failure—but actual failures mostly involve patients who don't have good control of their symptoms. If you're a diabetic, properly managing your condition will lower your risk of implant failure to nearly identical that of someone without diabetes.
Treat gum disease. Implants in themselves are immune to disease—but the underlying bone that supports them isn't. A gum disease infection could eventually weaken and diminish the implant-bone attachment. If this happens around an implant, its stability can be severely compromised. The best strategy is to prevent gum disease through daily, thorough brushing and flossing to remove disease-causing dental plaque. And if you see any symptoms like gum swelling, redness or bleeding, see your dentist as soon as possible.
Your implants could serve you well for decades. Just be sure you're doing the right things to ensure their longevity.
If you would like more information on dental implants, please contact us or schedule an appointment for a consultation. You can also learn more about this topic by reading the Dear Doctor magazine article "Dental Implants: A Tooth-Replacement Method That Rarely Fails."